Imagine the sounds of crashing waves, the feeling of sunlight warming your skin, and the soft feathery squish of sand between your toes. No wonder beach weddings have been stealing the spotlight from traditional stuffy halls. Not all beaches are created the same however. A beautiful white-sand barrier island, Anna Maria is your dream wedding destination.
Anna Maria Island Features
Anna Maria Island is often called a stolen look in time to Old Florida and with good reason. This 7-mile barrier island paradise is beloved by all who grace its shores. Anna Maria just won 2018's Happiest Seaside Towns from the prestigious Coastal Living Magazine. Residents are aware of the value of the precious treasure that is the island. There are no high-rise condos and the speed limit on the entire island tops out at 35 mph! The white sandy beaches are just the beginning. There is dining, shopping, kayaking, parks, and parks galore. There are too many activities to list but check out our short list of Anna Maria activities here.  This makes it a perfect location to gather guests from near and far to celebrate a wedding, and enjoy a piece of paradise.
Wedding Venues on Anna Maria
It wouldn't be an Anna Maria wedding destination without an amazing venue to match. Here's a quick rundown of our top 3 favorites:
The Sandbar Restaurant is a coastal beach wedding venue with an amazing deck that sits right on the white sandy beaches of Anna Maria Island. This venue has been chosen for the Bride's Choice Award by Wedding Wire five years in a row!
The Sunset by Gulf Drive Café prides itself in being an all-inclusive wedding venue. Party sizes from 25 all the way up to 150 can be accommodated. The café features an in-house Event Coordinator help make your wedding dreams a reality.
The Beach House Waterfront Restaurant is famous for its seafood. It features wide playing areas perfect for the little ones at your wedding. The Beach House was named to The Knot's best of weddings hall of fame for 2018!
Anna Maria Where to Stay
If you happen to be visiting Anna Maria for a wedding, remember to book a place to stay that parallels the beauty of the island. Sato Real Estate has vacation rentals has plenty of accommodation options.
Kingfish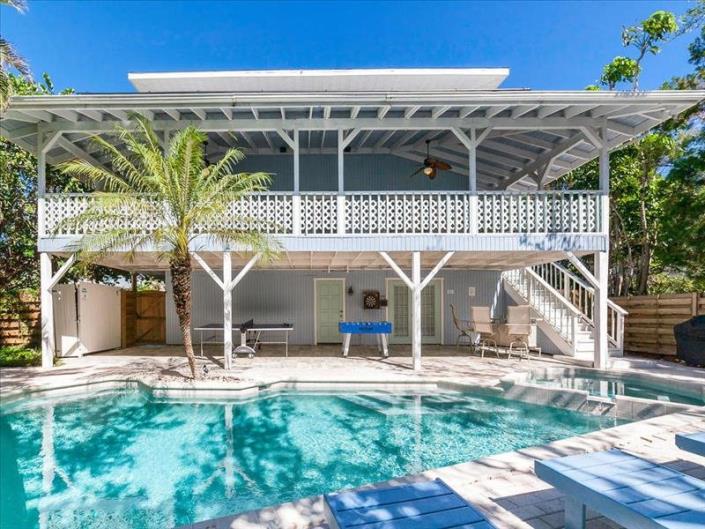 Kingfish vacation rental is one of Anna Maria Island's most private sanctuaries for the senses. With 5Bd/3BA Kingfish comfortably sleeps up to 8 people. Only a quick stroll from the Gulf of Mexico, Kingfish is outfitted with a heated pool, a wrap-around deck, an outside bar, and a private deck for direct access to the water.
Need more options? Run Sato's quick search through hundreds of properties to find the right fit for you!
Give Sato Real Estate a call at (941) 778-7200 or send us a quick message for a full listing of all our specials!